Sell a second hand guitar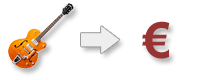 To sell a second hand guitar, sign in in the form below or connect to your private area if you already have an account.



Why signing in?
The purpose of the signing in is to avoid spams on the website and to offer a true contact with the seller.
Also, with your connexion infos, you will be able to modify your adverts anytime. Once the sale is done, please inform us and we will stop sending messages on your advert.
Free sign in
Fill in all the infos and validate. Your password will be sent on your email address.