Get a second hand guitar alert
Your are looking for a specific second hand guitar?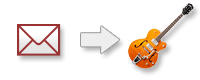 Select your criteria in the form below and we will email you each time a second hand guitar advert matching your criteria is available on the website.


You will not receive any other email from us.
You can create as many alerts as you want.
You can delete your alerts at any time.
Your second hand guitar search criteria